Wheat Spelt Polisher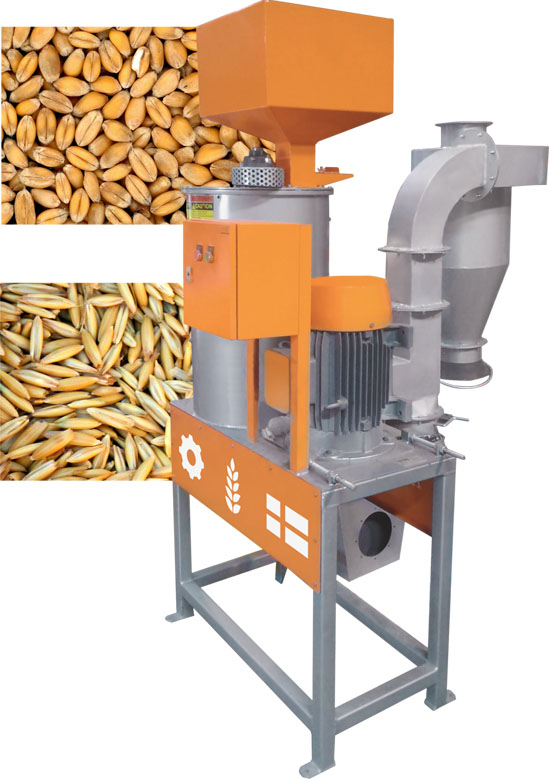 Description
Wheat and spelt polishing machines for commercial production:
Wheat and spelt polished by an ABC Hansen polisher allows for higher grade flour and for processing of pearled wheat which is consumed in many markets as a staple food. The polisher may be used as highly efficient scourer allowing for less break stages in a roller milling system. When used in conjunction with one of the ABC Hansen stone mills or Universal mill or even Hippo hammer mill, the flour quality improves dramatically and the disruption in protein chains, is reduced dramatically, allowing for lighter risen out baked products. The protein allows the expansion of the dough which houses the gas produced during fermentation. Too many fine bran particles causes the gas bubble to rupture during expansion, casing the bread to "fall flat".
The use of an ABC Hansen polisher prior to stone milling, would allow for a lighter flour and would bake bread with a cream colour as opposed to bleached and roller milled flour from industrial plants. The flour so obtained is the only flour able to be classed as "stone ground flour" as all other flours have extensive contact with steel.
When processing spelt, for instance for Dinkelbrot and rolls, the polisher would provide a lighter and sweeter loaf then when whole ground. Biscuits, pretzels and crackers made from polished stone ground spelt is a premium product.
The polisher works on an abrasion principle with five stones of special emery and flint, which scours the bran from the wheat kernel. The next stage of milling on a stone mill then provides for true "stone ground flour." In combination with organic wheat, this is a highly desirable product in the health market.
Enquire about this products

Copyright © 2021 Hippo Mills. All Rights Reserved.