Diesel Engines
Buy Diesel Engines Online
Born at the end of World War II (and the same year as Bob Seeger, but on the other side of the world in Shangtung, China) Jiangsu Jianghuai Engine Co.,Ltd. was founded in 1945. And just like Bob Seeger, Jiang Dong has steadily and persistently been growing, developing and building fans for more than sixty years.
Becoming somewhat of a legend when in 2002 Jiang Dong became the first Chinese manufacturer to pass the American EPA requirements. This accomplishment was a huge push, opening the door to having an established and solid distribution channel, globally.
Developing into one of the largest Chinese exporters of diesel engines over the years, focussing on quality as well as price, Jiangdong has thrived in repeated business worldwide and more importantly, has gained customer trust in over 50 countries and regions. Reaching No. 1 when it comes to export volume and manufacturing more than 1 000 000 engines annually, it is easy to see why this brand will be around for generations to come. In its new premises in Yancheng, representing more a small city than a factory, petrol engines for top international brands are churned out at a massive rate as are tractors, rice harvesters, rotavators, power generating sets and many other implements and of course diesel engines by the thousands. Travelling through rural China it is amazing just how many JiangDong engines can be seen on all types of vehicles and implements.
Jiangdong engines have been imported by the ABC Hansen for close on two decades and matched with the renowned Hippo Hammer Mill brand for an affordable hammer mills, threshers, wood saws and other processing equipment to the rural African entrepreneur but also for many other applications including water transfer and borehole pumps on extensive cattle and game farms, power generation, wood saws, fans, mobile light towers, construction machines, vibrating rollers, concrete cutters, concrete mixers, high pressure washers, vehicles and many other uses. The evaporative cooling system means no radiator which is often clogged up in milling operations.
The range supplied by Hippo includes 8HP, 12 HP 16HP and 20HP while up to Jiang Dong's 40HP are imported on order and all larger diesel engine can also be supplied.
A compact engine to complement any machine attached to it, be it a Hippo Mill up to a Size 1 as well as the Hippo thresher. Other items that can be furnished with JD engines include generating sets and mobile light towers, pumps, high pressure washers, construction machines, compactors, vibrating rollers, concrete cutters, rammers, concrete mixers etc.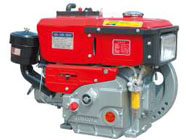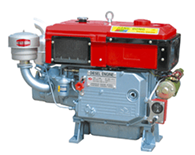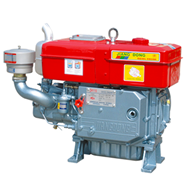 THE ORIGINAL JIANG DONG DIESEL ENGINE , A CHINESE TRADITION SINCE 1945
Technical Specifications:
Model
R180A
JD195
S1100B2 D
ZH1110D
HP
8
12
16
20
Type
Single-cylinder,Horizontal,4-cycle
Combustion
Pre-compression chamber
Swirl
Swirl
Direct Injection
Bore×Stroke(mm)
80×80
95x90
100×115
110×115
Displacement(L)
0.4
0.638
0.903
1.093
Compression Ratio
20:01
21:1
17:01
Output/Speed(HP/rpm)
7.7/2800
12/2400
16/2200
20/2200
Cooling System
Evaporative
Lubrication System
Combined Pressure and Splash
Starting Method
Hand Crank
Hand Crank
Electric Starter
Electric Starter
Net Weight(kg)
65
98
160
185
Packed Size(mm)
L
620
725
900
900
W
380
400
440
440
H
570
690
760
760

Copyright © 2021 Hippo Mills. All Rights Reserved.