GRAIN CONVEYING EQUIPMENT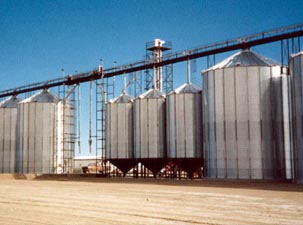 The grain handling equipment offered includes Inclined Screw Augers, Horizontal Screw Conveyors, Vertical Bucket Elevators, Horizontal and inclined Chain Conveyors, Belt Conveyors & Grain Pumps (Tube Conveyors).
Screw Augers
We supply to Specification standard Auger diameter sizes of 101mm, 165mm, 203 and 219mm, 275mm, 325mm, 400mm and larger.
Horizontal and inclined Screw Conveyors
These are screw conveyors that run in a trough, and are designed to run horizontally or with slight inclines and are fitted with carrier bushes to allow for conveyance over fairly long distances. Standard Sizes are 101 - 400 mm as above.
Bucket Elevators
A complete range of Bucket Elevators are manufactured for capacities of 5tph to 200tph. Polyethylene, nylon and polyurethane buckets in all sizes are available together with fasteners and belting.
Chain Conveyors
A complete range of Chain Conveyors either locally manufactured or imported are available for either horizontal or inclined application or both.
Belt conveyors in all sizes to specification are also supplied.
Grain Pumps
Tube conveyors(grain pumps) are increasingly used for conveying grain between unload, load and various silo points usually where 2 or more silos are used. Capacities of 50, 100, 150, 250 and 450 tons per hour are achieved. All loading an unloading can take place with only one or two electric motors, whatever the number of silos in a complex.

Copyright © 2021 Hippo Mills. All Rights Reserved.